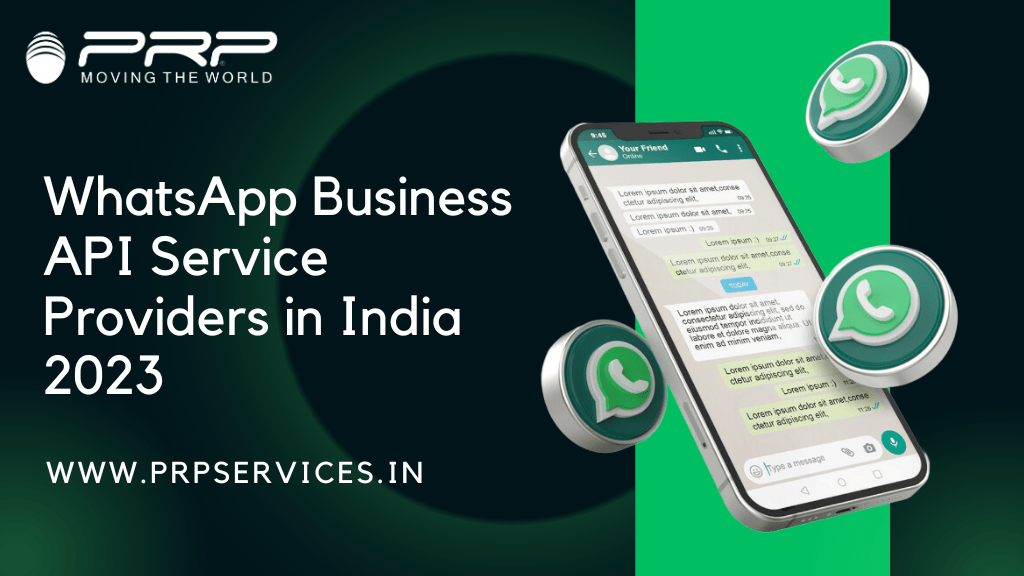 The WhatsApp Business API is a service that allows businesses to communicate with customers on WhatsApp at scale. It provides a suite of tools and features that businesses can use to automate and streamline their customer service, marketing, and sales operations. To get started with the WhatsApp Business API, businesses need to create a WhatsApp Business account and then partner with a WhatsApp Business Solution Provider (BSP). BSPs are companies that have been authorized by WhatsApp to help businesses integrate with the WhatsApp Business API. Once a business has been approved to use the WhatsApp Business API, they can start using the API to send and receive messages from customers. Businesses can also use the API to integrate WhatsApp with their existing business systems, such as their CRM or e-commerce platform.

Top 10 Official WhatsApp Business API Solution Providers in India
1. PRP Services
PRP Services is a leading WhatsApp Business API Service provider in India, offering a wide range of cloud-based communication solutions to businesses of all sizes. With PRP Services, businesses can benefit from a secure platform, custom development solutions, a single-in application, and a complete communication solution that includes almost all communication channels.

2. Sendinblue
Sendinblue is an all-in-one email marketing and marketing automation platform that helps businesses of all sizes reach their customers and grow their relationships. No matter what type of business you have, Sendinblue can help you reach your customers and grow your relationships.

3. Interakt
Interakt is a cloud-based WhatsApp Business solution provider that helps fast-growing businesses and brands boost their online sales and automate customer support. Built on the official WhatsApp Business API, Interakt offers a suite of features that enable businesses

4. BotSpace
BotSpace is a WhatsApp Business API solution that helps businesses automate customer support and engagement. It provides a shared team inbox, chatbot builder, and other features to help businesses scale their WhatsApp communication.

5. Tyntec
Tyntec is a cloud communications platform that enables businesses to interact with people across any mobile channel – from SMS to chat app to voice. All from a single point of access. Founded in 2002, tyntec was one of the first companies to recognize the potential of SMS as a business tool. Today, tyntec offers a wide range of mobile communication services

6. Yellow.ai
Yellow.ai is a leading conversational AI platform that enables businesses to deliver human-like personalized interactions in the preferred language. It is powered by a generative AI-powered Dynamic Automation Platform (DAP) that continuously trains on billions of conversations for scale, speed, and accuracy. Yellow.ai's DAP can automate conversations across 35+ channels, including websites, email, SMS, WhatsApp, Instagram, Google Business Messages, voice AI in 135+ languages for contact center systems, telephony, IVR, home assistants, and more. Yellow.ai's platform is used by a wide range of businesses, including Fortune 500 companies, to improve customer satisfaction, employee engagement, and operational efficiency.

7. Wati
Wati is a powerful and easy-to-use end-to-end WhatsApp API solution that helps businesses of all sizes connect with their customers, automate communication, and build relationships through WhatsApp. Wati is used by businesses in a wide range of industries, including retail, e-commerce, travel, hospitality, customer support, and education. WhatsApp is one of the most popular messaging platforms in the world, with over 2 billion active users. By using Wati, businesses can reach their customers where they are already spending their time.

8. Twilio
Twilio is a cloud communications platform that enables developers to build voice, video, and messaging applications. It provides a set of programmable APIs that developers can use to add communication features to their apps, such as the ability to send and receive SMS messages, make and receive phone calls, and hold video conferences. Twilio is a powerful and flexible platform that can be used to build a wide range of communication applications. It is easy to use and integrate with other tools and platforms, and it offers a variety of pricing options to meet the needs of businesses of all sizes.

9. Kaleyra
Kaleyra is a US-listed global Communications Platform as a Service (CPaaS) company that provides API and visual tools to communicate with customers worldwide through various channels, including SMS, MMS, RCS, and WhatsApp for Business, Video, and Voice. Kaleyra's services also include access to virtual numbers (toll-free, local and mobile), lookup services, and integration plugins. Kaleyra serves as a partner for Google's services, Verified SMS and Verified Calls.

10. Infobip
Infobip is a global leader in omnichannel communications, helping brands creates meaningful relationships with their customers, at scale. Infobip's programmable communications platform delivers a suite of tools for advanced customer engagement and support, plus security and authentication. This enables businesses to connect with their customers on their preferred channels, including SMS, MMS, voice, email, WhatsApp, Viber, and more.